We are MAGNEDS and we magnetize people and brands
We build future-proof loyalty and activation solutions for leading brands. With our own S7 (digital shopper activation) platform we combine technology and creativity to create a powerful foundation for impactful, award-winning solutions.
With all necessary disciplines in-house, we offer a unique 360° approach and an inspiring environment where we learn from each other, topped with the unparalleled 'Brabantse gezelligheid'! There is always room in the Magneds family for fresh knowledge, skills and good company. Are you ready to magnetize with us?
WHY WE MAGNETIZE
Our mission is to help brands grow smarter and more efficiently through different digital sales and activation campaigns. We believe in a digital glue throughout the customer journey to stay connected to the increasingly online consumer and stay ahead in an ever-changing landscape. It is all about creating more valuable moments to build future-proof relationships. 
More valuable moments, more sales, more insights 
To do that, we combine creativity and technology to develop and integrate powerful loyalty and sales activation solutions on our very own in-house built platform engine called S7. It enables our clients to identify, activate, measure and monitor all consumers participating in their marketing and sales activities. We create award-winning platforms that host campaigns that are relevant, surprising and impactful.
From our headquarters in Tilburg we keep the engine running. Every day, our approx. 50 colleagues with different disciplines and expertise are challenged to create magnetizing moments. At Magneds you work together with other professionals who share a passion for development and innovation. We work hard, play hard and are proud of our team effort.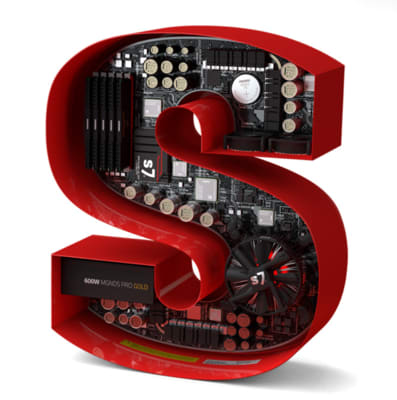 HOW WE MAGNETIZE
Our 360° approach means we have all disciplines in-house to create, develop, maintain and optimize successful loyalty and activation solutions.
SCRUM WORKFLOW
Our client teams and platform innovation team are all working based on the scrum method. Scrum is a framework that helps teams work together. Scrum encourages teams to learn through experiences, self-organize while working on a problem, and reflect on their wins and losses to continuously improve
CONCEPT, DESIGN, CREATION
The creative brain of Magneds lays the foundation of our magnetizing campaigns. The concepters translate a client's wishes and needs to compelling storylines and made to measure loyalty mechanics, after which the design team brings the ideas to life. They create anything from awesome animations to eye-catching POS materials.
DATA MANAGEMENT & ANALYTICS
Digitizing consumers not only enables multi-stage interactivity and personalization; it provides valuable 1st party data and unparalleled consumer insights. Our data team is there to support our clients in learning from their data and using the insights to optimize their future campaigns, for example through multivariate forecasting techniques, text mining and machine learning.
S7 SOFTWARE DEVELOPMENT, HOSTING & SUPPORT
S7 is our modular platform built on Domain-driven and Test-driven design and development principles. With 10+ years of experience built into our current version of the S7 platform our clients can implement major league level campaigns, strategies and solutions. From a turnkey (customizable) frontend implementation for both mobile apps and web to an API that offers them all the freedom they want; our flexible and scalable solution is what sets us apart from the rest.
Our platform team is both the brains and muscles behind our innovative way of working, while the client teams take care of a flawless, pixel perfect translation to our clients' platforms.

Tijl Brocken
Allround Designer
My name is Tijl Brocken and I work as a designer at Magneds. Together with my team I develop new concepts that are widely applicable. For this I use tools such as Cinema 4D, for instance to create characters or items in 3D. In the 10 years I've worked at Magneds I have become an experienced, allround designer. The good vibe and great colleagues have definitely contributed to that.

Pleun Hoofs
Team Lead Digital
My name is Pleun Hoofs. I have been working at Magneds for almost four years. Recently I made the switch from Product Owner to Team Lead. As a Team Lead I'm responsible for the correct implementation of the Scrum approach. Together with the Product Owner, Scrum team and organization we adhere and improve to the Scrum theory, practices and rules. At Magneds we are always innovating, developing and improving, which keeps my work challenging. Besides that, we have an informal working atmosphere, which makes it nice to come to the Magneds office every day to work!
Kaja Siwek
Program Manager
I joined the company more than 2 years ago. I was intrigued how Magneds's unique digital touch could enhance the world of short term loyalty programs in retail. As a program manager I am responsible to bring our programs to stores and thus to end consumers. This means, I oversee all ins and outs of the project and am a linking pin between the client and our organization. This guarantees versatility in my daily work and gives me the opportunity to collaborate with different colleagues each day. And I love it! We have a strong team of creative, motivated people, who think in solutions and possibilities. We have fun at work and there is always a good energy.

Maik Teurlings
Senior Backend Developer
Maik has been working as a Platform Designer for well over 7 years and tells us a bit more about his role within Magneds. We work via the Scrum method, meaning every morning starts with a standup in which we share with the team what we've worked on, what we're planning to do next and what problems we may have encountered. After that, we get started on ongoing and new tickets. Because we work according to Domain Driven Design (DDD), we also have a Domain Discussion aside from the usual Scrum meetings. In these sessions, the team and optional other experts tackle new functionalities by defining a domain with rules within which we can solve the issues. This domain is then documented, and from there we create new tickets for the next sprints. From an early age I've wanted to become a developer. As a little boy I was already creating programs on the MSX. The great thing about this job is to transform complex issues into usable code. I also enjoy to keep learning different techniques. I can do all this in Magneds' Platform team. We convert issues into solutions that are generic and as complete as possible, enabling the Client teams to implement the right solution for the client.

Fleur Hoofs
Product Owner
My name is Fleur and I have been working at Magneds for almost 3 years now, as a Product Owner. Following an agile way of working, together with a team of developers I am responsible for the implementation and (further) development of functionalities within our Client platforms. I am the link between the client and the team. Together with the client I create an inventory of the wishes, I set priorities, I monitor the progress, I'm responsible for timely delivery and I inform the client on any ongoing activities or projects. At the moment our team works for three clients; FrieslandCampina, DekaMarkt and Pathé. Three partners with whom we have set up many great projects within their platforms Eurosparen, Smaakmakers and Pathé All Stars. Projects we are all very proud of! If I were to describe Magneds: hardworking and loyal colleagues, creative, great projects and clients, achieve successes TOGETHER and last but for sure not least, the necessary dose of humor and fun in the workplace! It's that combination that makes me very happy to work at Magneds.
DID YOU KNOW…
On the floors above us you can find Doloris, a surrealistic art maze as well as one of the largest rooftopbars in the Belenux. Indeed, the perfect place to celebrate successes! 
Most of the Magneds property consists of a bright, open space, offering plenty of room to let the creativity roam. Does a task require a little more focus? There is always a quiet spot to find, for instance in one of the meeting rooms on the upper floor. Oh, and don't be startled when a small, red rubber Magneds ball flies around your ears, or an inflatable shark comes hovering over your desk. These things tend to happen.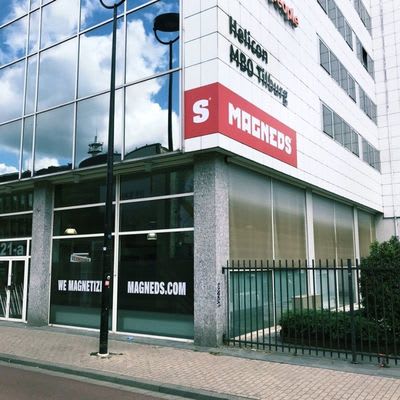 WHERE
We are located at the Spoorlaan at the very heart of Tilburg on a 5-minute walk from Tilburg Central Station and right in between the bustling city center and the creative and innovative Spoorzone.